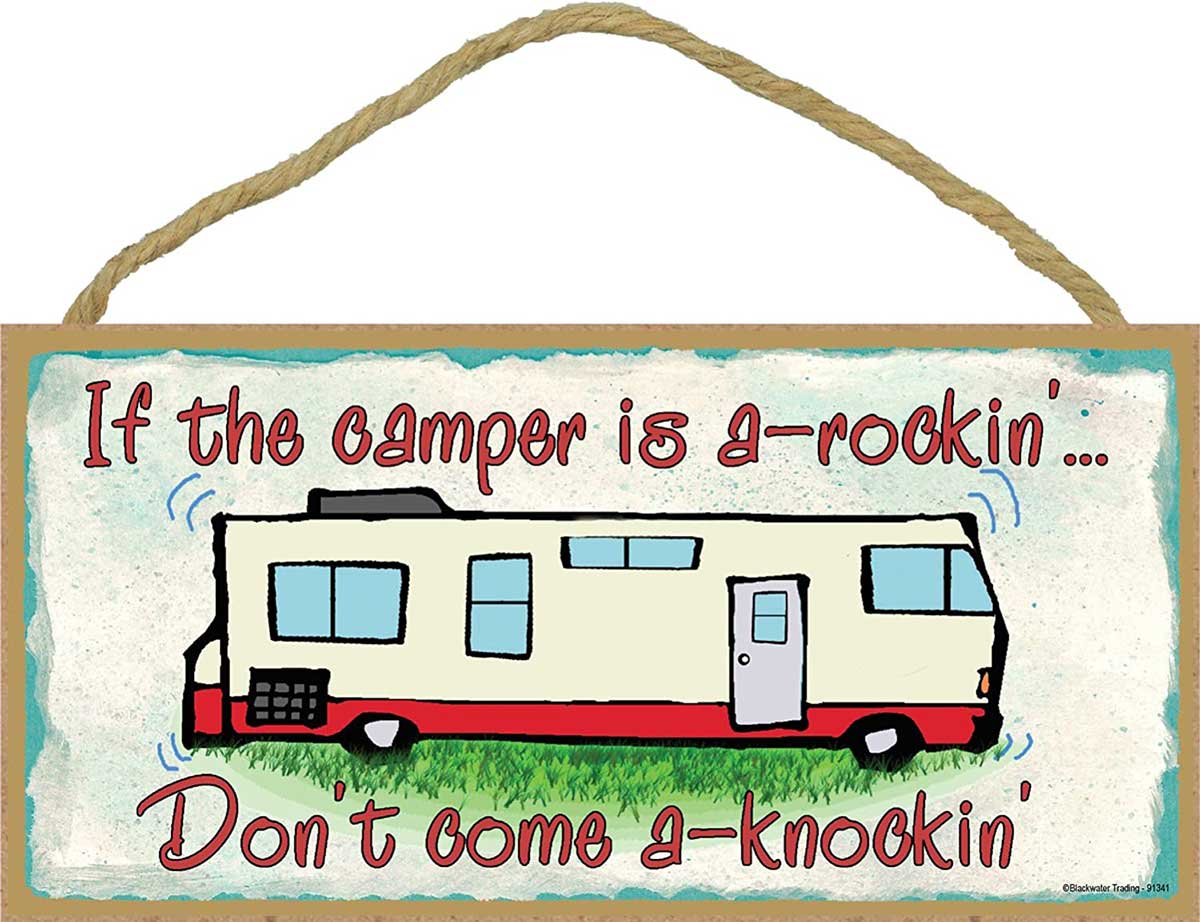 Camping sex is often some of the best sex you and your spouse will have. There's something about a crackling fire under the stars after a relaxing day that makes you feel frisky.
A 2013 study about camping sex revealed that most couples questioned said they made love more often than usual while camping. This detailed post gives you all the tips, techniques, and products you need to have lots of adventurous, satisfying, inconspicuous sex while camping in an RV, camper trailer or tent with or without kids.
Why Having Sex While Camping Is Great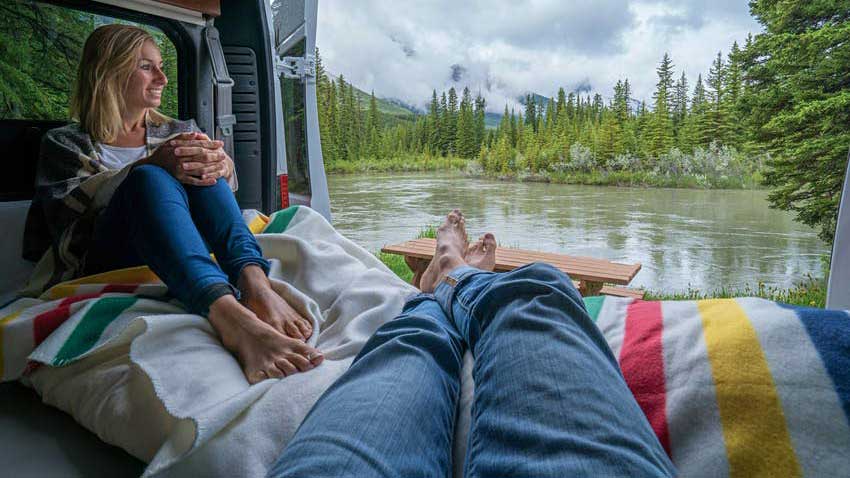 Less Stress: Most of us go camping to leave our day-to-day lives behind and de-stress and recharge. According to this study, we are willing to have more sex when we aren't stressed, and sex is better.
Renewed Closeness: Intimate, great sex with your spouse rejuvenates your relationship and tightens your bond long after the camping trip.
Newness is Hot: Have you ever made love in another room in your house? There's something about having sex in a new location that really turns you on, and RV sex is no different.
More Adventurous: Camping promotes a sense of adventure, which often carries over into lovemaking. Couples often try new sex positions, sexual techniques, and sex toys while camping.
Essential Camper Sex Dos and Don'ts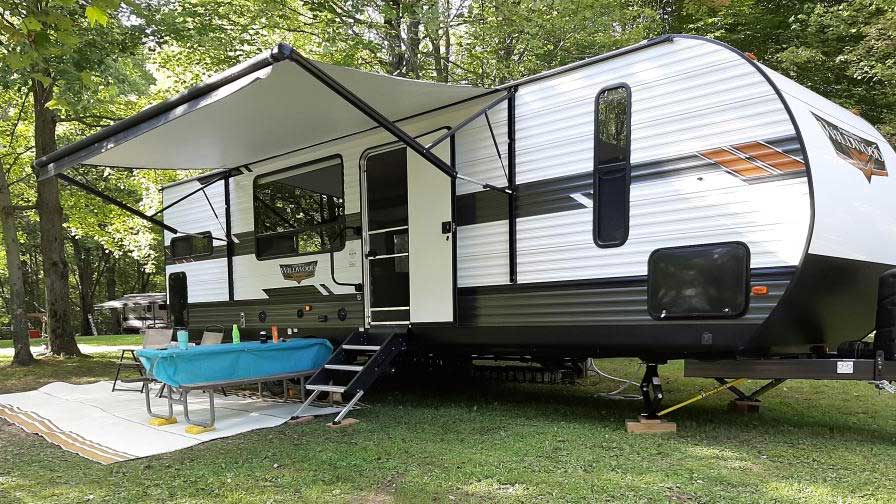 Front-to-back, not side-to-side: If you can, orient yourselves so that your thrusts go from the back to front of the RV or vice versa. Your camper will withstand more movement in this direction without rocking.
"Sex"-Chocks: Typical travel trailers include stabilizers that keep them level but don't provide much more support than that. Get some X-chocks. If your camper has two or more axles, X-chocks add stabilization and prevent tire shifts by applying opposing force to tandem tire applications.
Awning Must: Close your awning before having sex in the RV. An open canopy will wave like a huge flag and scream, "we're having sex in here!"
Secured Blinds: No matter how well you stabilize the camper, it will still move a little, especially if you and your spouse are really getting after it. If your blinds are not secured at the top and bottom, they will sway to the slightest movement. Make sure they are secured and closed, or better yet, use a solid shade instead of blinds. A towel works well, too.
Tinted Windows: Consider tinting your camper's windows. When the lights are off inside, and the blinds are closed or shades pulled down, nobody can see inside.
Use Sex Positions, Sexual Techniques, Marital Aids, and Locations That Maximize Stimulation
Make it count by being smart about what positions, techniques, sex toys (if any), and locations you use when making love while camping, especially if your kids are nearby.
Lots of Foreplay: If you have time, spend lots of time on foreplay. Foreplay helps build sexual tension and makes sex so much better for both of you.
Sex Positions: You're probably in close quarters while camping. There might be a low ceiling or a smaller-than-usual bed that limits what sex positions can be used—compact sex positions such as Splitting Queen, Reverse Grinding the Corn, and Dragonfly works very well in tight spaces. We highly suggest getting a Deck of Position Cards or Position Cards Printable so that you have access to our positions when Internet connectivity is limited or non-existent.
Sexual Techniques: Simple techniques can turn good sex into great sex. Check out our sex tips area for inspiration. The Push G-spot Stimulation Technique and Marriage Bed Tips' Cumonhispickle technique are notable.
By the way, Marriage Bed Tips is a great Christian resource that focuses on foreplay and intercourse techniques that help you make the best love you can make.
Marital Aids: Several marital aids can aid you and your spouse during sex. For example, a small sex pillow will lift and tilt your body, enhance your favorite positions, and enable amazing new ones.
Ensure she has an orgasm by using a quiet vibrator such as the Ultimate Bullet to stimulate your wife's clitoris during foreplay or intercourse.
If you've never used sex toys before but might want to try them, we've got a great post that's filled with information about using marital aids to enhance sex. MarriedDance also has lots of great, detailed information about using marital aids to improve intimacy with your spouse.
Locations:
Use locations and props to your advantage while getting it on with your spouse.
Give her cunnilingus or manual stimulation while she's slumped on the sofa or in a chair.


Hot Seat Cunnilingus Position

Give him a blowjob or handjob while he's sitting somewhere in the camper or standing in a tight place.

Make love while she's leaning on the counter or bent over a chair or couch.

Get it on while the wife lays on the edge of the bed or seat.

If you're entirely alone, have sex outside under the stars or skinny dip with your spouse in a creek.
Camping Sex With Kids Around
Don't let kids nearby take sex off the table during a camping trip. Mom and dad need to have fun too! We've got some great tips parents can use to hide the fact that they are having sex. Follow these tips, and your kids will never know about all of the fun you and your spouse are having.
Lock the Door: Make sure you and your spouse feel secure that the kids won't barge in while mom and dad are wrestling naked with each other. We suggest installing some kind of secondary lock as an extra safeguard.
Create White Noise: Run a loud fan in your bedroom. If it's run every time you sleep, the kids will never think twice about why it's on. Turn on the main A/C while you're wrestling naked with your spouse. Most camper A/C systems are loud and do a great job covering up the sounds of sex.
Wash Towel Hack: Use one or two wash towels between you and your spouse to muffle the slapping sound made during sex. You're welcome.
Wear Them Out: Exhausted kids sleep like a rock. Make sure they have lots of adventures during the day, so they sleep really hard at night.
Do It At Night or When They're Away: If you're camping with family or friends, plan a time or take advantage of the time when your kids are away with them for a while and get busy with your spouse.
Have Sex in Your Vehicle: If your kids are old enough to leave them for a little while and it's dark enough so that nobody can see inside your vehicle, have sex in your car. Make sure you lock the car doors and maybe cover yourselves with a light blanket for extra cover.
Tips for Having Sex in a Tent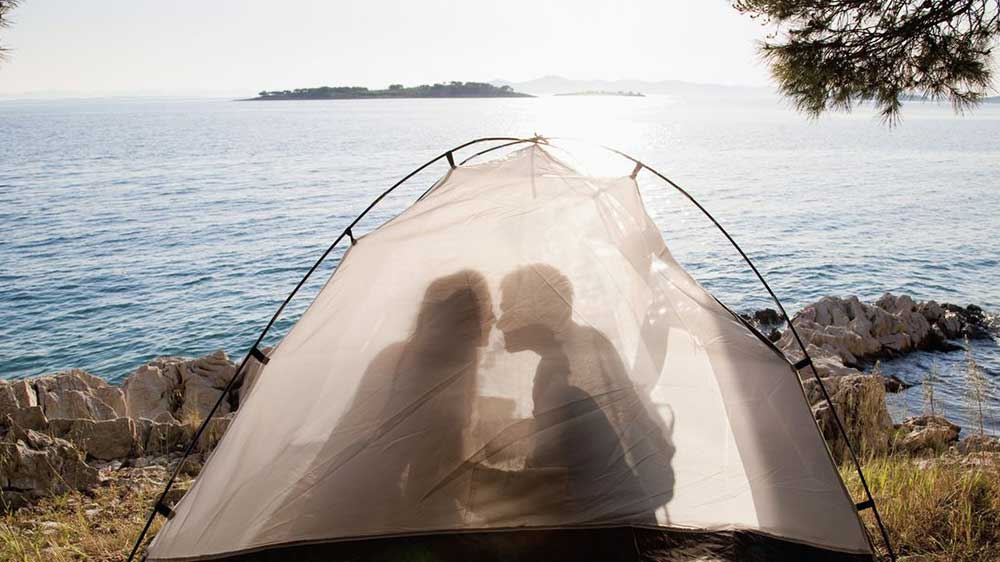 Camping sex in a tent can be awesome if you're not too cold or hot, and you follow these tips.
Cooler Months Only: Making love during cooler months is more enjoyable than in hotter months. Cold temperatures can be overcome with sleeping bags and the heat from your bodies, but there's no way to cool a hot tent.
Turn Off the Lantern: Any light coming from inside your tent will create a silhouette of everything that's going on inside. So, turn off all lights unless you want to put on a show.
Daytime Sex: The sun can shine through some tents, especially when the sun is low on the horizon during the morning and evening. Set up your tent in a shady spot, or have your spouse go in the tent to see if they can be seen during the day.
Be Quiet: Tent walls do not block any sound. Trust me! If your tent is close to other tents, we recommend having sex in positions that reduce the slapping sound, such as Cowgirl and Let's Dance.
Keep Your Vents Open: It might get steamy in your tent while getting it on. Ensure your tent's vents are open, so good airflow and a comfortable temperature are maintained.
Flooring: Make sure you have enough cushioning on the ground where you're making love. We suggest spreading out a few sleeping bags or linens. An inflatable mattress would be the most comfortable, but most of them probably won't withstand the stress put on them during sex. Reserve the inflatable mattress for sleeping only.
Sleeping Bags: If it's cold or you want an extra layer of sound dampening, zip two sleeping bags together and get it on inside of them.
Follow these tips on your next camping trip, and we guarantee an extra hot sexy time you and your spouse won't forget.
If you have any spicy tips for great camping sex, please leave them in the comments so other couples can enjoy them, too.