What is the Reverse Grinding the Corn sex position?
Scroll down for details about getting into this pose, a tip plus-size couples will appreciate, and techniques that enhance clitoral stimulation.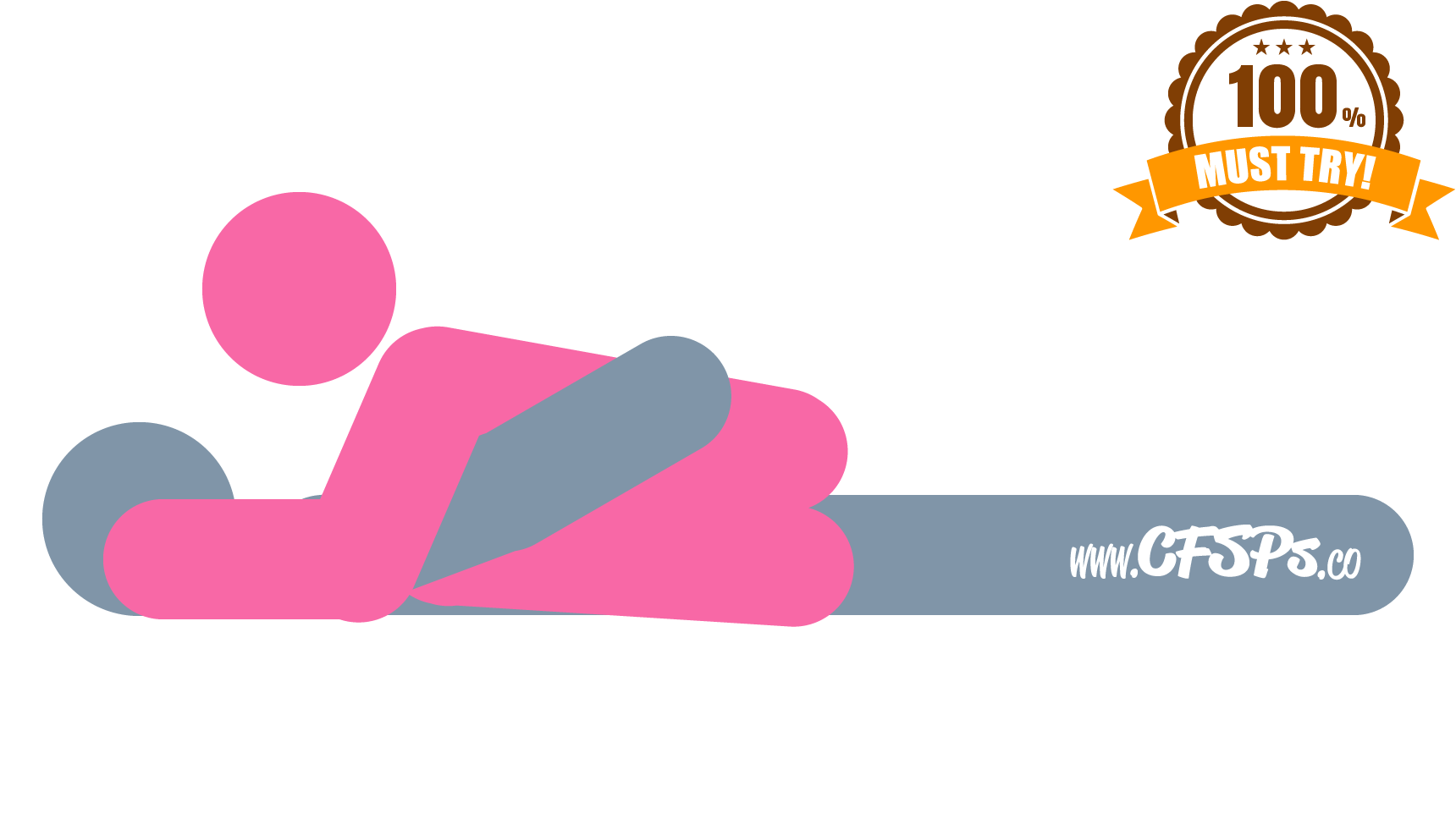 How to Have Sex in the Reverse Grinding the Corn Position
The husband lies on his back with his legs together, pointing straight out.
His wife straddles his pelvic area with her knees bent, resting near his shoulders.
The wife allows her husband to enter her.
She slides her pelvis back towards her husband's feet so that his penis rubs her clitoris on its way out.
Once his penis has almost completely exited her vagina, she moves her pelvis forward so that his penis rubs her vagina on its way back in.
This sex position takes some practice, but it's well worth the effort.
If you can't get the hang of this position, allow him to fully enter you and then grind your clitoris on his pubic bone. This will give you a similar effect.
We highly recommend trying the Fantastic Hug Intercourse Technique with this position. It adds significant clitoral stimulation!
Sex Tips for Plus Size Women and Men
This post contains affiliate links to trusted companies. Full Affiliate Link Disclosure
Reverse Grinding the Corn is an amazing sex position, but some overweight couples might have difficulty enjoying it unless they use this easy position adjustment.
Better Access: Lift his pelvis so that gravity pulls his belly away from his groin and pokes his penis out for deeper penetration by placing a Liberator Wedge Sex Pillow with the high side pointing at his feet or a folded, firm pillow under his butt. This will allow much deeper penetration and better control.
Recommended Reading: Sex Tips & Techniques for Plus-Size Lovers
Check out all of the best sex positions for overweight people.
Sex Tips & Techniques for More Stimulation

Apply a dab of scream cream on her clitoris before lovemaking to add additional stimulation while making love to her. Wear a vibrating ring at the base of your penis while making love to your wife so the ring's vibrator can stimulate her clitoris during intercourse. Check out our in-depth guide on Increasing Clitoral Stimulation During Sex!
The husband can place his hands on the small of his wife's back and press down while she's making a front to back movement. This will create orgasmic clitoral stimulation.

Press your breasts against your husband's face so he can kiss and suck on them while having sex. Recommended Reading: Benefits of Breast Stimulation During Foreplay & Sex
Sex Routines This Position Is a Part Of
If you like this pose, you should try enjoying it during one of these sex routines or sex stories, as we like to call them.
Saddle Up is exclusively a woman-on-top sex story that's performed in bed. This routine takes advantage of the great clitoral stimulation and the fact that most men can last longer during woman-on-top sex.