What is the Take Me Now sex position?
Scroll down for details about getting into this pose, a tip plus-size couples will appreciate, and techniques that enhance g-spot stimulation and add clitoral stimulation.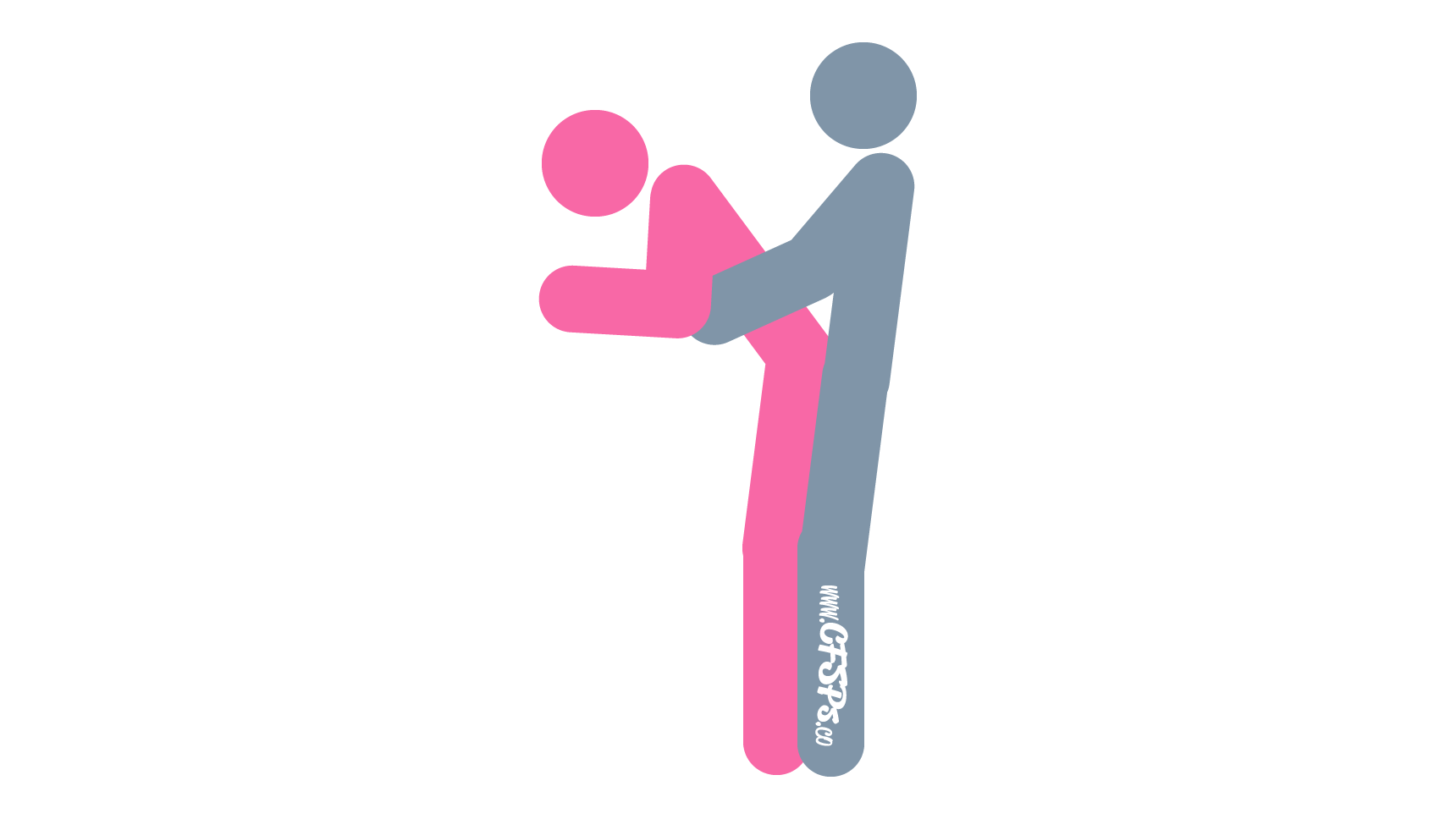 How to Have Sex in the Take Me Now Position
The wife stands in a bathroom facing the mirror.
She leans forward onto the vanity and looks in the mirror.
Her husband stands behind her.
The husband enters his wife, and they have sex from behind.
Sex Tips for Full-Figured Couples
If your wife's butt is pleasantly plump, have her try this position adjustment for plus-size couples for deeper penetration and better g-spot stimulation.
Better Access: Have your wife tilt her pelvis back and arch her back a little so her vagina is more accessible for you to penetrate from behind. If you need more access, she can spread her stance a little wider, too.
Recommended Reading: The Best Sex Positions & Techniques for Plus-Size Couples
Check out the best sex positions for pleasantly plump people.
How to Spice up the Take Me Now Sex Position

Push back as your husband thrusts to provoke deeper penetration and more powerful thrusts.

Arch your back a little, point your butt out, and tilt your pelvis so that your vulva is closer to your husband. This will allow deeper penetration and better g-spot stimulation. Recommended Reading: How to Increase G-Spot Stimulation During Sex

Position yourselves so that both of you can look forward in a mirror and watch each other make love. This visual is very stimulating for both men and women!

Use your fingers with some scream cream or your favorite vibrator to stimulate your clitoris while making love to your husband for lots of additional stimulation. Apply a drop of tingling gel to her clitoris, and then reach around and manually stimulate her with your fingers while making love to your wife. Check out our in-depth guide on Increasing Clitoral Stimulation During Sex!

Reach around your wife and caress her breasts with your hands, and gently rub her nipples between your fingers. She can also wear a pair of nipple clamps to pinch her nipples gently and stimulates them as her breasts bounce from lovemaking. Recommended Reading: Benefits of Breast Stimulation During Foreplay & Sex
This position was formerly named Restaurant Attendant.